King Michael receives Alexandru Safran Medal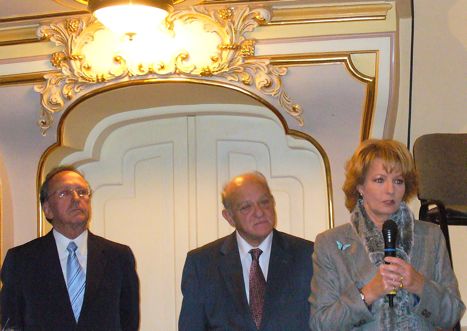 Bucharest, Wednesday October 13, 2010
Their Royal Highnesses Crown Princess Margarita and Prince Radu of Romania attended a celebration in the memory of Dr. Alexandru Safran, Chief Rabbi of Romania (1940-1947), organized by The Federation of the Jewish Romanian Communities.
In the name of His Majesty King Michael I, Crown Princess Margarita received Dr. Alexandru Safran Medal for the important personal merit of Queen-Mother Helen in saving the live of Romanian Jews during the Second World War.
Former Presidents Iliescu and Constantinescu of Romania, members of the Romanian Academy, representatives of civil society and the Diplomatic Corp as well as journalists attended the ceremony.
In the presence of the Crown Princess and Prince Radu, the volume "Alexandru Safran and the unfinished Soah in Romania. Document book (1940-1944)" by professor Carol Iancu received the "2010 Alexandru Safran Award".
Avionoam Safran, son of the late Chief Rabbi Safran of Romania, whose family supports the annual award, also attended the ceremony.